Take advantage of our expanded no-obligation 30-day FREE field test.
---
Now you have the opportunity to try a SiteSync IQ® wireless clock system or an AllSync IQ® wired clock system -- as well as AllSync Plus® Clocks, Power over Ethernet clocks, Wi-Fi Clocks and Radio Controlled Clocks -- FREE* for 30 days in your facility.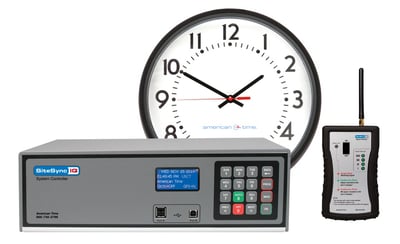 ---
SiteSync IQ wireless equipment shown
(system controller, analog clock and signal strength indicator)
*Some limitations and considerations may apply for customers outside the U.S.