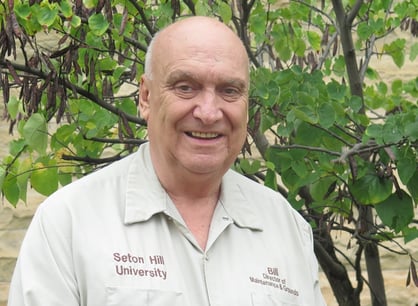 Announcing the 2018 Maintenance Hero!
We searched for stories of maintenance heroes, and we were overwhelmed! We heard from people from every corner of the country and from many industries, telling us their stories of maintenance heroes who are skilled, caring, and who go above and beyond to make their entire community a better place. It was truly inspiring!
The Grand Prize Winner is:
Bill Vokes, Director of Maintenance and Grounds at Seton Hill University in Greensburg, Pennsylvania!
---
Runners-Up:
Jeannie Donovan, Head Custodian at Sylvania Northview High School in Sylvania, Ohio
.

Mel O'Campo, Facilities Manager at Santa Maria Foursquare Church in Santa Maria, California.
As the grand prize winner, Mr. Vokes earned $3,000 in American Time product credit for Seton Hill University. Ms. Donovan and Mr. O'Campo each earned their organizations $1,000 in product credit.
Read more about the winners HERE!
THANK YOU to all who participated and those who have been nominated. There are so many well-deserved individuals who go beyond their daily duties to touch so many lives. We've sincerely enjoyed reading through these nominations.


---
It's time to recognize the Maintenance Hero who is making a difference in your facility!